In the initial phase of Innovation Academy, the district will create 10 libraries of the future within Andover schools. These innovative learning spaces will fully immerse students in a collaborative culture. Incorporating multiple learning styles and flexible seating configurations, the Academy will engage students in authentic learning projects. This project, beginning in media centers and projected to expand to Andover school classrooms, has the potential to redesign learning in a powerful way.
Innovation Academy will make an intentional connection to our new state vision for Kansas (Kansans Can) and the Kansans Can School Redesign project that each school in Kansas will go through within the next 10 years.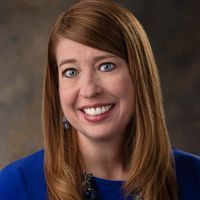 A Conversation with Heather Hawkins, Library Media Specialist
What are specific examples of the technology you would purchase for an Innovation Academy library?

An Innovation Academy library should include iPads, a 3d printer, chromebooks, Skype equipment, robots such as Cue or Dash, 3d pens, coding kits, circuitry kits and a Google Expeditions VR kit.

Are these types of technology used elsewhere in Andover schools, or would they be unique to the Innovation Academy library?

A 3d printer is unique although the high schools have an elective class for this. Everything else could be used in classrooms as well, but it would be helpful to have them centrally located in the media center so the items can be circulated more effectively.

How do you expect these types of technology to engage and change learning?

Students will be exposed to what the future has in store for them. Artists can draw and create a 3d print using an app on an iPad. Using Bloxels and an iPad students can code video games. Student collaborative projects in all subject areas, robotics and coding clubs personalize learning experiences.

What are the top three to five benefits of an Innovation Academy environment as it relates to student achievement and success?

These tools can help students see what type of job opportunities might be in their future. Technology keeps growing and advancing and when the latest technology is available more opportunities can be given. Virtual reality and augmented reality are also the future. An environment with soft seating is more inviting and welcoming which facilitates creativity.

What do you believe will be the indicators that the Innovation Academy environment is successful?

Student interest and excitement (students flocking to the media center). More memorable experiences. Teachers collaborating with the media specialist to supplement curriculum. Community members becoming involved with student projects to assist in relevant learning and help guide student futures and occupations.

Will the Innovation Academy library appeal to high-performing students or all students?

All students and all teachers will benefit.

What is your nationwide reference(s) for this kind of environment?

ISTE (International Society for Technology in Education), Future Ready Librarians (schools), edutopia.org.

Paint a picture of the ideal Innovation Academy environment.

"The libraries of the 21st century provide a welcoming common space that encourages exploration, creation, and collaboration between students, teachers, and a broader community. They bring together the best of the physical and digital to create learning hubs. Ultimately, libraries will continue to inspire students to construct new knowledge and meaning from the world around them."

I love that quote from this article https://www.edutopia.org/blog/21st-century-libraries-learning-commons-beth-holland. There are pictures in the article as well.